September 28, 2021 - By :
MONCKS CORNER, S.C. – (Wednesday, March 10, 2021) – A middle schooler enrolled in the Berkeley County EMS Explorer Program recently put his lifesaving skills into practice to help save a family member's life. (See photo attached.)
On February 22, Cooper Schneider, 12, found his grandpa, Gregg Schneider, unresponsive and with a drooping face inside his Cane Bay home. Without hesitation, the seventh grader rushed to his grandpa's side, checked his vitals and implemented a sternum rub, prompting a "flailing" response from the 65-year-old.
"I was panicking but at the same time, I knew that I had to do something fast." -Cooper Schneider
Unable to unlock his grandpa's phone with facial recognition, Cooper eventually accessed the phone's emergency contacts and called his grandma and father, a Charleston County EMS employee who contacted 911. Shortly after, Berkeley County EMS and Whitesville Fire Department responded to the scene. Paramedic JanPeter Brase and EMT Jacob Phipps are credited with transporting the patient to Trident Medical Center. While it was initially suspected the patient had suffered a stroke, a CT scan and bloodwork later ruled out that theory. The exact cause of the medical event remains undetermined, though it's suspected it could have been a reaction to a certain medication. Gregg Schneider praised the Berkeley County EMS Explorer Program for teaching his grandson what to do in a medical emergency event.
"The boy did good, and I fully credit the program that he's in. …He followed everything according to what he basically was told." -Gregg Schneider, Cooper Schneider's grandpa
Cooper said he initially enrolled in the EMS Explorer Program to fill some downtime during the lockdown. It has now become one of his top interests.
"I kind of just wanted to be the kind of person who is on the scene (of an emergency) and get a person to the hospital if they need it." -Cooper Schneider
About the EMS Explorer Program:
Berkeley County EMS started the Explorer Program in 2017. Since its inaugural year, the program has trained approximately 30 students. Berkeley County is the only county in the Lowcountry to currently offer the EMS Explorer Program, which provides students critical classroom instruction and hands-on training related to careers in EMS, nursing, and other healthcare-related jobs. From CPR and first aid to incident management and how to apply a tourniquet, the program teaches various critical lifesaving skills. To date, at least two program graduates have been hired at local EMS agencies.
The EMS Explorer Program is open to all local 7th through 12th graders, not just Berkeley County-based students, and runs the length of a normal school year. EMS Explorers Post is the high school program, and EMS Explorers Club is the middle school program. All student participants meet at Cane Bay High School for classroom instruction. The main difference between the two programs is that high school students may also accompany EMS employees on ambulance ride-alongs.
The EMS Explorer Program compliments the separate EMS program offered to Cane Bay High School students as part of the Berkeley County School District Career and Technical Education (CTE) program.
"I am very impressed by Cooper's actions while facing his grandfather's medical emergency. Cooper stayed calm, assessed the situation and acted. This is the same kind of response our professional EMTs and paramedics do every day. I believe that Cooper's response to this family emergency speaks volumes about how his parents are raising him and the real-life value of the EMS Explorer Program. Cooper is just the kind of young person we hope will enter our profession." -Michael Shirey, Berkeley County EMS Compliance Chief
For more information on the Berkeley County EMS Explorer Program, call 843-943-1818. Berkeley County EMS is also hiring. Go HERE to view job openings.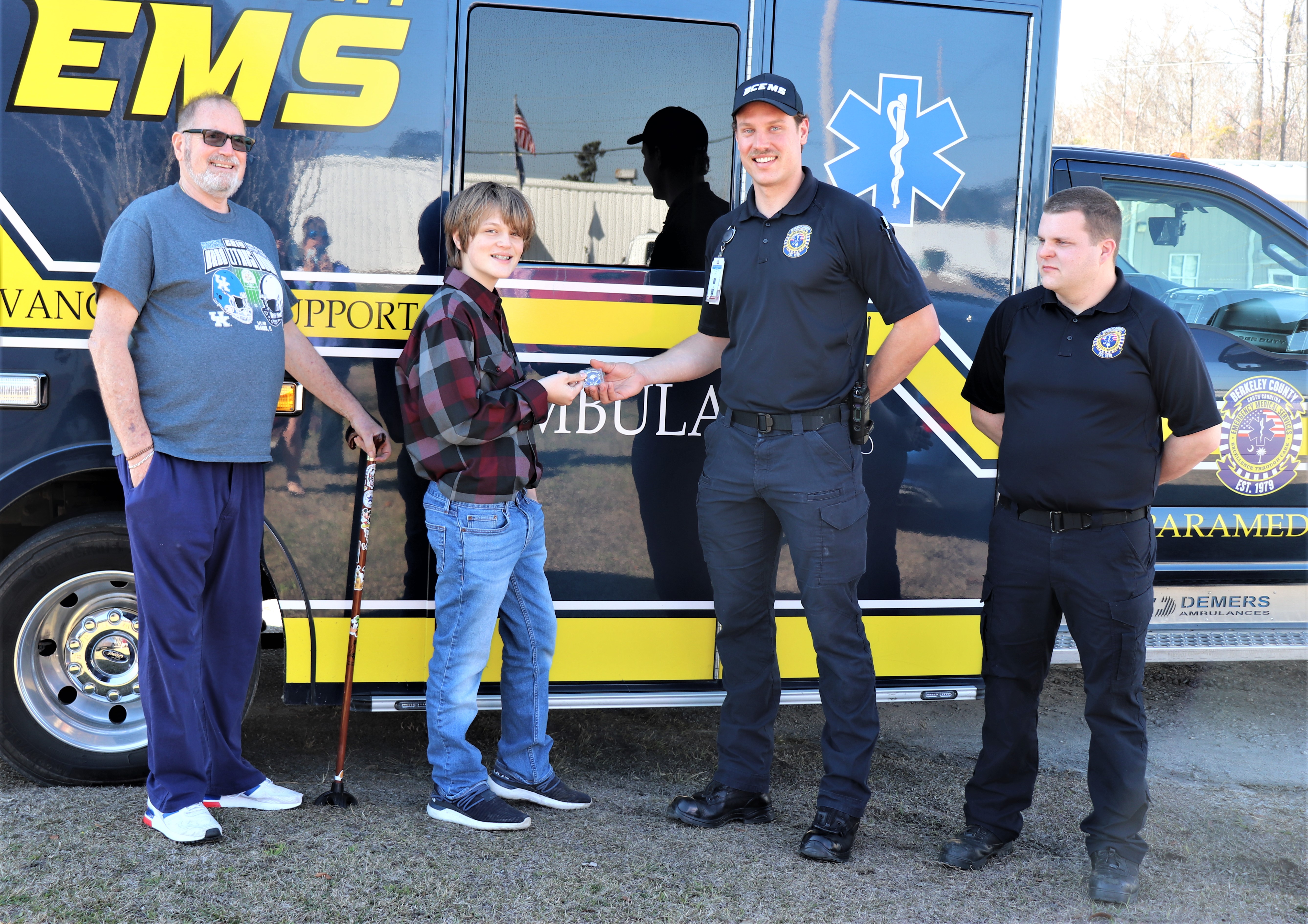 ###
– Prepared by the Berkeley County Public Information Office –